The Laurels of Norworth Staff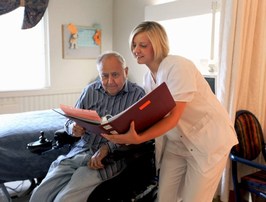 What differentiates one skilled nursing & rehabilitation center from another? The answer is... the people who work and reside there! The people set the tone, the atmosphere, and the expectations. At The Laurels of Norworth, we take great pride in ensuring that everyone feels like part of our family, and that they are treated as special "guests" in our home.
The Laurels of Norworth employs a team of highly qualified medical professionals, including a Medical Director, Registered Nurses, Restorative Care Nurses, a Wound Care Nurse, state tested Certified Nursing Assistants, Physical Therapists, Occupational Therapists, and a Speech Therapist. Our on-site Rehab, Dietary, Social Work, and Activities departments provide personalized and compassionate care to each guest. From the moment you walk through the front doors, the warmth and caring of the staff will begin to gain your trust and confidence, as they strive to exceed your expectations.
Unlike other facilities that use "contracted" staff members, each member of the team at The Laurels of Norworth is directly employed, not "contracted". Each Team Member takes great pride in portraying "The Laurel Way of Caring", as they strive for excellence in providing only the highest standard of care and services to every guest, and to every family member and visitor. Come on in! Visit a while! Let us show you our very best... let us show you The Laurel Way.
Kristine Provan, Administrator
Kristine Provan has served as the Administrator of The Laurels of Norworth since June 2015. Prior to that she served as the Administrator at The Laurels of Worthington from June 2007. Kristine has a Bachelor's Degree in Music Therapy and graduated Summa Cum Laude from Ohio University in Athens, Ohio. She has worked in long-term care since 1998 and has been an Administrator since 2000. In addition to her Ohio Nursing Home Administrator's license she is also licensed in West Virginia. She was recently appointed to the President's Council at Laurel Health Care Company. Kristine resides in Gahanna, Ohio with her husband and two children.
LaShae Butler, Director of Nursing
LaShae Butler has been in long term care for more than 10 years and received her LPN from Columbus State in 2005 and her Associates in nursing from Hocking College in 2012. LaShae is currently working on her BSN through Ohio University. LaShae is a mother of 4 beautiful children. They love football and Ohio State is the family's favorite team! GO BUCKS!
Kacy Gilliland, Director of Marketing
Kacy earned her Bachelor's degree in Psychology from the University of Phoenix. She started as the Director of Marketing for The Laurels of Norworth in October 2012. Prior to this, she worked as The Regional Director of Marketing for Laurel Health Care Company. Kacy brings to The Laurels of Norworth over 17 years of long-term care experience. Kacy started her tenure in the Long-Term Care industry as an activity assistant. She worked in various departments throughout her career until finding her calling in the marketing field. Kacy has always held a special place in her heart for long-term care centers, throughout her childhood she used to go to work with her mother every Sunday afternoon and with the patients. Today she still loves spending time with the guests and their families and believes each of them make a difference in her life.